Did any of you watch the Golden Globes last night? All I could think about was thank goodness there were no mammy movies up for awards this year! Tina Fey and Amy Poehler tag-teamed that joint and did a great job! I try to limit the amount of television I watch and right now don't even have one. If there's a show that I must watch, I can usually find it online. Right now the one show I feel I must watch during its broadcast is Scandal! Fitz said "hi" and all of the women viewers collectively swooned.
Thus Netflix, Amazon Instant, Hulu and my trusty DNS bocker (so I can watch Canadian and European shows) are my best methods for keeping up with some of my current faves like Downton Abbey. It's okay, because I can usually find out what happened on a show if I follow my Twitter feed for live responses. I prefer to be surprised though.
I wasn't going to write about the Globes, but a friend sent me message on Twitter expressing their surprise that I wasn't doing a live play-by-play. There is a live stream for most award shows, so viewers from around the world and in different time zones can watch simultaneously, but sitting through these shows can be rather tedious.
I streamed a recap of the ceremony and mostly relied on skimming through social media to get feedback. Of course, we can't forget to show interest in some of the fashion highlights and winners, but my interest piqued because I heard Jodi Foster "officially" came out during her acceptance speech for the Cecil B. DeMille Award (and looks amazing for 50). In what has to be a secret to almost no one, the Hollywood icon decided to publicly acknowledge her private life. If she's okay with that, cool. We should all be free to be our fully actualized selves. Of course I'm not sure "Hollywood" dog and pony shows provide the proper venue, but they do offer international press coverage.
Wow! Wasn't that great! See a quick fashion recap after the jump.
My pick for best dressed:  Julianne Hough wearing Monique Lhuillier (who makes the most beautiful wedding gowns).
I know, you're asking who she is but see how a lesser-known actress can blow away some of the veterans? I love the punk rock hair.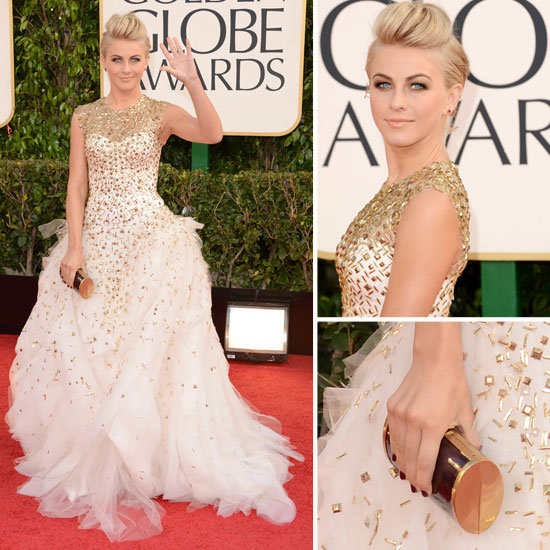 Kerry Washington in Mui Mui dropping the Olivia Pope  bump and curl for a sleek look. Seriously, she should wear her hair like this on Scandal.
Claire Danes wears Versace and she just had a baby one month ago. That's insane to drop weight so quickly in my opinion and not give your body time to rest, but that's the life of an in-demand actress I guess.
There were a lot of misses from what I perused which only proves some stylists are crappy and the celebs are too afraid to come up with a signature look. It's just too corporate, but it's a business and people want to make money. The commentators were particularly out of their element as many couldn't even pronounce the names of the designers properly. #NBCfail #FirstWorldProblems.
What were the highlights for you?