I wanted to share some things that make me smile 🙂 🙂 🙂 . There's no particular order and this is a mix of photos and commentary. I want you all to get in the habit of imagining/conjuring/thinking about nice things so you begin to expect them as par for the course and not something you have to "strive" for. We have to ignite our flights of fancy and embrace the impractical at times.  It's your inherent and inherited right to by joyful!
Chocolate:
Cocoa has many beneficial properties that are good for us! It's no wonder we are drawn to it. My life would be over if I had to give up chocolate.  One of my faves is the Vosges gourmet chocolate Barcelona bar. It's about $8 and worth every penny. They even give you instructions in how to eat the bar properly so you get the most sensory and satisfactory experience. When you place a piece on your tongue, let it melt against the roof of your mouth and get hit by the first wave of sea salt — whew Choco-gasm!
Sparkly Things:
These shoes are from Fall 2008 but are they not still FAB!
Home Decor:
RIP Fine Living Network. It's now The Cooking Channel. Still fun…but not the same. Sheila Bridges had a great series which I hope are or will be made for sale as I lost a bunch of media files where I'd stored all of my recorded episodes :(.
Things You Find In Coffeeshops:
Travel:
Cadaques is on my list of places I must visit. I'm so kicking myself I didn't go when I was in London. I was so close! I had every intention of going back sooner but this shows you that life sometimes gets in the way and other priorities emerge.  Cadaques is about one hour north of Barcelona and is the home of Salvador Dali which is now a museum you can visit. One of my favorite artists. Boy, I have so enjoyed studying psychology (Carl Jung specifically) while analyzing the meaning behind Dali's best works. Trippy.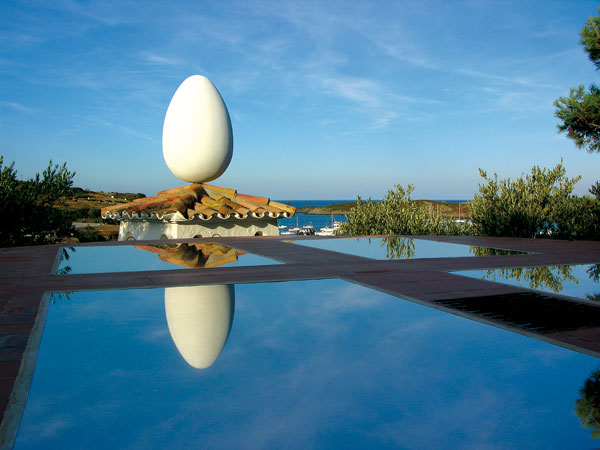 Food:
Two of the things I truly miss since I don't live in the UK anymore are a) HobNobs and b) KettleCrisps. I can track down the former at specialty shops. Those crunchy little oat cookies are a slice of heaven. Can you tell I really like food? The Kettlecrisps are impossible to get because the company doesn't import them that I'm aware of. Trust me I've bugged them for years. The Kettlechips (US) are NOT the same. They have a seasonal package: Port (wine) & Stilton (blue cheese) that is out of this world. Maybe it's better that I can't get them.
Another thing I love is Garrett's Popcorn.
It almost makes me want to route all of my travel through Chicago so I can buy a bag at the airport – almost! Despite my Get Fit 2011 plan there is no way I'm ever going to deprive myself of wine, desserts and things that taste good. I will however, not consume them 24/7. Life is meant to be enjoyed and hopefully shared with ones we love who love us back.
Cheese:
Haloumi (the national cheese of Cyprus which you can GRILL) & Brillat Savarin (French triple-creme brie great with champagne) & Mimolette are my faves!
Big Time Sensuality:
What is better than getting a squeeze from behind by your main squeeze followed by a kiss on the neck? Ah…heaven. By the way there are no Botox or lip Injections up in here!
Smooches!
This is a new series so I have more lovelies to share with you dear readers. *wink*
***
Dali photo credit