I just had to do a quick post reshuffling when the scans for the June issue of US GQ magazine appeared on several Michael Fassbender fan sites yesterday. So, while we'll be discussing him as the overall example for this post, this isn't really about him. Or any male for that matter. This is about you, women making smart choices that benefit them from a position of confidence.
The article is part of the media blitz for Prometheus. *While some of the accompanying photos are typically objectifying, it is a men's magazine and par for the course (insert eye roll). The interview was quite good. Now onto the topic at hand.
As excerpted:
During an earlier stop in New York, he was photographed walking the streets of SoHo hand in hand with his Shame co-star Nicole Beharie. (I wrote about how some people could kick rocks with their concern trolling and open disdain) Fassbender has tended to keep quiet about his romantic life, though not long ago he briefly reflected on the discovery that his new fame comes with "a buffet of choice." After the photos of Beharie and him appeared, the global gossip media anointed her as his girlfriend.
When the man you're dating lets other people know you're together, he's invested. Men typically don't discuss [newer] relationships, but I suspect Fassy thought it warranted a mention (without going into TMI mode) to silence speculation he was "hiding his black girlfriend" or that Nicole is "just an occasional sex partner" as people have been suggesting online. In this instance their worst-case assumptions are inaccurate.
"I'm seeing Nicole, we're trying to see each other as often as possible," he acknowledges. "That's kind of difficult when she lives [in New York] and I live in England." He says they got together during the film's promotion. "Nothing happened while we were filming. We started talking more on the promotion thing. So, yeah, it just sort of unfolded like that." Presumably that's why he's now back in New York for a couple of days, though he doesn't say so.
If you saw Shame then you already know they had combustible chemistry.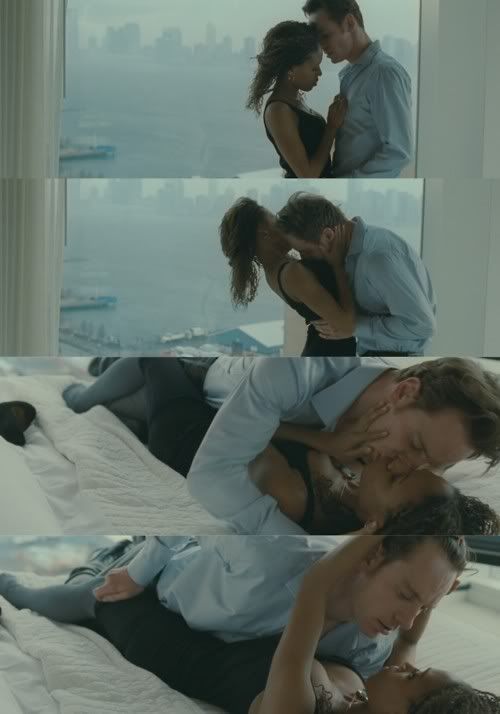 Since most people meet through work and social circles, it makes sense if they were open and available to see whether a spark would develop into something. Now, this is an example of a high-profile relationship, but the scenario plays out across class, gender, race or occupation. He certainly didn't have to say anything, but there are some thirsty women clamoring for his attention simply because he's famous.
Chasing after a man is never a good idea, even though it can be very tempting to do so in the name of modern womanhood. If you make yourself too available men lose interest or get really comfortable (read that as lazy about impressing you) and you'll fall into bad habits and power imbalances that will bite you in the butt later.
While a little discretion is wise, there's a world of difference between a man keeping a relationship private and referring to the mother of your children that you've refused to marry as your "sidekick". Or calling women "gold-diggers". Or other terms not fit to print.
This pairing of two esteemed actors (not dating for a publicity stunt) holds more promise than say that of a certain loud-mouth rapper and reality show vixen both desperate for attention. As a woman evaluating a man you have to operate from a position of strength. Women are the prize. That doesn't give you license to act like a boob!
In your dating/mating life you've got to let down your walls, but communicate thoroughly – if you want to secure or maintain a high-caliber coupling. Pay more attention to behavior than verbal manipulation. No one can predict the future, but our instincts are often correct when we aren't filtering. I have to say Nicole is playing it smart by a) making sure HE makes the effort to see HER b) Not saying a word about their relationship publicly. He's the one doing the talking!
What a man says about you is just as much of an indicator into his character as what he thinks about you. Whether he holds you in high regard determines everything. Pay attention!