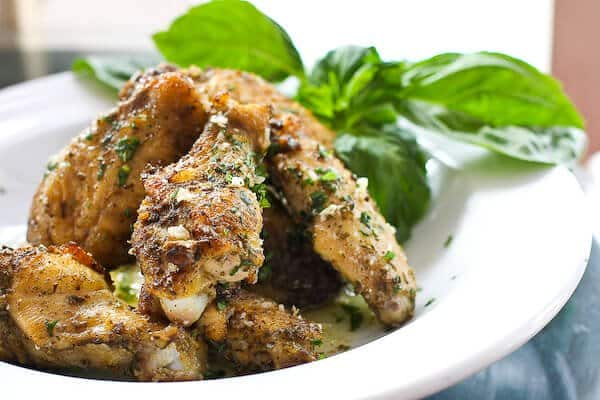 Recipe courtesy of Steamy Kitchen
There's a great dipping sauce included! I substituted bottle Blue Cheese with Stone Ground mustard. It was sooo good.
Ingredients:
1 teaspoon dried oregano
1 teaspoon dried rosemary
1/2 teaspoon ground cumin
1 teaspoon kosher or sea salt (1/2 tsp table salt)
2 1/2 pounds chicken wings
2 tablespoons extra-virgin olive oil (or melted butter)
2 tablespoons minced fresh basil
2 garlic cloves, finely minced
1/4 cup grated parmesan cheese
1/2 teaspoon seasoning salt (like Lawry's)
1 cup blue cheese dressing
1-2 teaspoons Dijon mustard (or to taste)
Go to the site for cooking instructions. FYI, the baking time needs to be extended by about 30 minutes. You can adjust time and temperature based on your oven.
Additionally, you can GRILL the chicken. Add some fennel, asparagus or mixed raw veggie platter and you're good to go! Enjoy!!