Matty D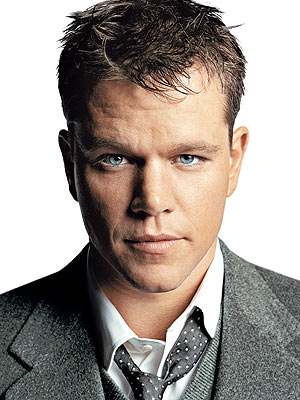 OR 
                           Leo Di
Together would make a great Man-Wich!
Who says we have to choose?
Do I really think the two actors are plotting to knock each other off to reign supreme at the Box Office? Of course not! Besides, they'd probably be looking at Taylor Lautner or Robert Pattinson if they were.
It was an interesting question a writer posited during his review of a recent Damon flick that got me thinking about the two actors as friendly rivals. Leo's next project has him portraying J. Edgar Hoover – which has a Best Actor Oscar nomination (if not a win) on lock. He seems a little young for that type of epic, but again Oscar calls.
Matt already has one, but it's for writing. It was kind of a fluke in a way because he has been doing other people's projects since. He'll be playing the long-term partner of Liberace in a film biopic. Now that's far more interesting to me.
Leo was a youthful-looking highly regarded up and coming actor, who had his Twilight moment times 1,000,000 when Titanic was released in the late 90's. He managed to survive being every teen girl's dream, grew up and matured into the leading man he is now.
During this time there's been a succession of other males in his peer group who've reached prominence like Will Smith, Mark Wahlberg, Chris O'Donnell, Joaquin Phoenix, Ben Affleck and oh yeah…Matt Damon. Some have been able to maintain their status a bit better than others let's just say.
In a funny little twist of fate, Marky Mark (I can't help it) produced a comedy show on HBO loosely based on his status as a Hollywood star, but the lead actor in the series reminded me more of Leo than him. Anyway, popularity ebbs and flows, but acting chops cannot be faked.
Hollywood wants to keep a stable of talent – ok I'll be blunt – a pool of white male actors who are leading men from all age categories. It's why so many foreign-born actors (Brits, Australians) get work here as leads in films, tv shows, etc. It's why some actors are touted as A-Listers in the press when they don't even have projects to support it. That was the case with Brad Pitt.
This isn't so much a smack down between the actors – because Leo, Matt (and Mark) all acted together in a Scorcese film – but an observation about how they'll use these opportunities while they last. How much of a competition is this really considering they could be cousins? They look so much alike. Similar build, height, hair and eye color. For years, the buck began and ended with Tom Cruise but that era is over.
So while Leo was an established star early on, his career was hardly guaranteed. Matt had his Oscar for Good Will Hunting but it would take the lucrative Bourne franchise to cement his status as a bankable star. Leo was the lover, but Matt was the alpha male. Leo showed us grit in Blood Diamond while Matt chose a few ensemble flicks like the rebooted Ocean Eleven series.
While Leo got the head start out of the gate, I'm not betting against Matt. Leo wants to do big studio budget, mostly high-brow projects working with the hottest directors. While I was thrilled to see Inception for example I enjoyed the concept behind the film and the backstory with director Christopher Nolan far more than watching Leo act in it. I couldn't quite put my finger on why I thought he was miscast, but someone else nailed it for me. She said watching him leaves her cold.
So Leo might be playing it too safe or has he suddenly jettisoned all of the earlier charisma of his youth? He was boring in that film to me and I found myself wondering if it would've been more interesting with Matt in the lead instead.
Leo has avoided rekindling his heart-throb category, which created an opening for Matt. Which he nailed in The Adjustment Bureau. Both actors have had their share of hits and misses, which like life means you're still alive. Matt seemingly has the more stable off-camera life as he's long put down roots with a wife and children. They're both involved in philanthropic endeavors.
My conclusion is that it's a draw and they're both in enviable positions. Hopefully, the audience will benefit by getting more interesting movies and more shirtless scenes.